Improve team communications
Let us equip your people to communicate better.
Personality clashes and poor internal communication can really hamper business. The pressure of a small business environment can dial up tension, just when you need your team to pull together. In the past, training for better team performance has been expensive and hard to translate into business behaviour, day to day.
TetraMap® has changed all that with their practical, ground-breaking, NZ-designed approach that is transforming team performance, worldwide.
Available with full online delivery, anywhere in Aotearoa NZ.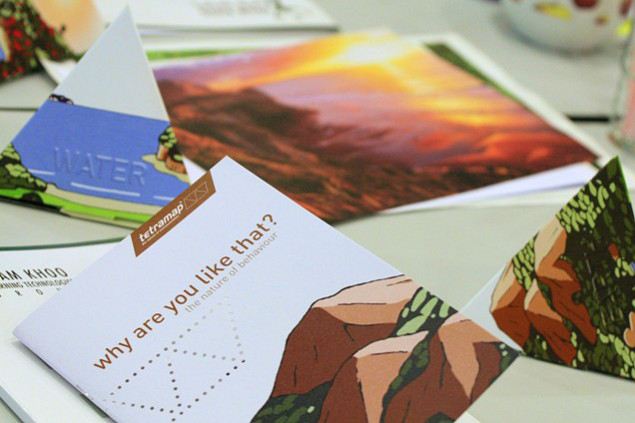 Transform team performance
A TetraMap programme delivered by our B Corporation Certified TetraMap Facilitators can help make your team more productive, foster the right culture for growth and reduce staff turnover. It helps managers cultivate a more effective leadership style and builds a better atmosphere in the workplace. With less tension your staff will be happier and able to achieve more.
Not only will happier team members represent your business more successfully, TetraMap will also give them new insight into how different customers like to be treated.
Communication is key to business success and the GoodSense TetraMap programme can help you and your team get better at it, fast.
• Effective and sustainable individual and team programmes.
• Easily integrated into business as usual.
• Simply taught and applied with initial benefits inside 3-hours
• PLUS elearning follow up and debrief to embed learning.
Used in 20 different countries, TetraMap's robust methodology has a proven track record of delivering tangible business results.  Read how the GoodSense B Corp Certified TetraMap trainers used TetraMap to help Raw Essentials' growing team understand each other and communicate better, with lasting results.
"The delivery was spot on and GoodSense provided great interactive learning materials, including workbooks, for all participants. The session was fun and effective. One of the things I liked best about it was how it gave us a shared language for how we talk about behaviour and communication in the team. This meant we could put the learnings to work in our stores and office straight away." Read more
Great value for any size team
TetraMap delivery can focus on teams, planning, or sales and service, to suit your business priorities.
Delivery starts with a workshop for the team and a manager debrief, elearning follow up and optional additional coaching sessions. TetraMap scales easily and affordably and can be run for larger groups, as well as for smaller teams.
Pricing starts at $2,250 +gst for a three-hour workshop for five people. This budget includes digital tools and workbooks for all participants, elearning follow-up and a manager's debrief.  We can deliver the whole programme for you, fully online, anywhere in Aotearoa. (If we are delivering this face to face, venue, catering and out of Auckland travel are additional.)
TetraMap scales easily
The budget for a four-hour TetraMap workshop for a team of 20 people, including digital workbooks for all participants, elearning follow-up and a managers' debrief  is $4,500 +gst (just $225 per person). The budget excludes venue, catering and out of Auckland travel.
Introductory workshops, as above, for 50 people cost $6,850 +gst (just $137 per person).
Optional team or one-on-one coaching to embed further improvements can be provided in 3 to 12 coaching sessions at $650 + gst per session.
The programme with our B Corporation Certified TetraMap Facilitators is eligible for up to 50% RBP voucher-scheme funding to qualifying companies, under the TetraMap Team Communication GoodSense programme.

TetraMap with GoodSense
Kath Dewar, Jo Patterson and Kylie Bailey are B Corp Certified TetraMap Facilitators and skilled at supporting any group to improve the way they work together. GoodSense has full access to TetraMap's proven materials and tools and to the TetraMap expertise, to provide a programme that will transform performance in your organisation.
GoodSense is registered as a service provider under the Regional Business Partner Network. If your business meets your local business assessors criteria for funding you may qualify for a government-funded voucher towards the cost of your Tetramap programme.
To find out more about using TetraMap with GoodSense contact us today >
TetraMap is a registered trademark of TetraMap International in New Zealand and other countries.