B Corp Certified!  GoodSense marketing is now officially 'good'!
Clients and partners no longer have to take GoodSense ethical marketing's social and environmental responsibility on trust. The NZ-based marketing business is now a Certified B Corporation!
GoodSense ethical marketing 'walks the talk' on certification 
GoodSense has always said third party certification matters when sustainability claims are being made and has now done the work to earn certification ourselves.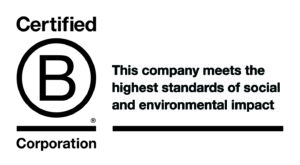 As a Certified B Corp, GoodSense is now one of 75 businesses in Aotearoa, and of over 5,000 businesses worldwide, accredited as meeting the highest standards of social and environmental performance, accountability, and transparency.  We're excited to have our business verified in this way, to connect with the B Corp network and at the insights and benefits this connection will bring our team and clients.
Getting B Corp Certified – hard but worth it!
The B Corp Certification has helped us up our game and commit to on-going improvement as we work with other B Corps, to re-shape business into a force for good.  It underpins our ethical marketing excellence and our leadership in sustainability since 2010.  It means our Australasian team of experienced, strategic marketers and our proven, collaborative methods, are backed up by world-class best practices in sustainable business.
It was HARD work to get Certified – it's a rigorous and holistic process – but we are very glad we did.  Our thanks to Puvi Tharuma, our patient B Corp analyst, and to Qiulea Wong, Kira Day and Katie Whittaker and for the warm welcome. We're also grateful to kiwi B Corps who had walked this path before us – Harv at Collective Intelligence, Tim Jones, the Grow Good Guy and to Mike Carroll at Brightly – for their support. Kia ora!
To B Corp or not B Corp
This video is a clip from the Sustainable Business Network Hot Takes 'To B Corp or not B Corp' webinar we took part in Oct 2022. To watch the full video including commentary from Qiulae Wong of B Corp and Simon Coley of Karma Drinks visit the Sustainable Business Network's channel here
Thank you to the Sustainable Business Network for inviting us to take part!
B Corporation Certification is good for our clients and partners
There's certainty and credibility in being Certified.  It gives everyone confidence we meet third party standards and are actively working to improve our business impact. It means clients who buy our marketing services can be sure we help them meet internal procurement guidelines too.
And we're excited about the potential for collaboration and connection. Certification links us into over 5,300 other businesses leading on sustainability internationally, including 74 other B Corps here in Aotearoa NZ and over 385 in Australia (as at 9th August 2022). When we're more connected, this creates new opportunities for our clients.
B Corporation Certification is good for our team and our business
It's been great to be able to add this to the raft of benefits we can offer our GoodSense team members.  They value what is says about the approach we take as Directors and Owners; that we are following best practice, rigorous in our sustainability approach and investing in business improvement.  Being a B Corp is already opening up potential collaborations within the network, here and overseas.  We're stronger together.
In a market which increasingly needs marketers who can both deliver great marketing AND keep clients safe from greenwash, in which we are increasingly working internationally, getting Certified gives us a world-wide sales credibility and further establishes our leadership in delivering ethical marketing excellence.
It also gives us standards, a framework, benchmarking and an external peer group to keep us accountable, supported and committed in our sustainability work.
B Corporation Certification is good for people and the rest of nature
The most powerful thing is to be collaborating globally with thousands of other B Corp Certified businesses to help transform our economy to one that is inclusive, sustainable, and regenerative.   GoodSense wants all business decisions to enhance upstream and downstream life for people and the rest of nature as well as to deliver shareholder value.
For our part in this pan-systems change, at GoodSense, we only use marketing as a force for good. This means we only work with organisations whose products or services benefit nature or people, as well as their bottom line.
With them, we're reinventing marketing to grow a healthier, fairer, zero-carbon world.  To find out more, please get in touch.  We'd love to talk.