Kath Dewar
Managing Director, Founder and Co-owner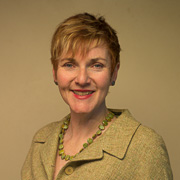 Kath Dewar (FCIM) has been providing flexible, freelance marketing expertise to NZ companies since 2001, first as KD Consulting and now through GoodSense.
Kath has operated at the sharp end of marketing, locally and overseas, since 1989 and has developed and tutored three short marketing courses through the University of Auckland Professional Development unit. As Managing Director for GoodSense, Kath manages business development and provides consultant support, peer reviews and a strategic overview for clients. Kath is a Fellow of the Chartered Institute of Marketing.
In former corporate and agency roles, Kath has managed marketing communications and campaigns for brands such as Air NZ, AMP, Cadbury and Microsoft. As a consultant, she has provided independent strategic guidance to large organisations including AMI Insurance, Chrisco and the Consumers' Institute as well as to over eighty medium and small businesses.
Having commenced her career in top-ten direct marketing agencies in the UK, managing teams and campaigns, Kath relocated to Aotearoa in 1996. After exploring the country, Kath took up a senior role at Aim Proximity, doubling the size of a key account and securing substantial new business inside a year. Moving client side in 1997, Kath managed the launch of online banking for the AMP group and ran a large corporate marketing team. Prior to founding GoodSense, Kath worked on the management team of an internet business and as a co-owner and Sales and Marketing Director of an eLearning business.
Kath's commercial experience includes new business start-ups, management of the development of successful new brands, launching new products and services and helping organisations understand how to give customers what they want. Her experience spans many business sectors including financial services, travel, telecommunications, IT, mail-order and business services. She has also worked on projects for not-for-profit organisations in NZ and the UK. Kath has particular expertise in helping organisations get the most out of database marketing and the Internet and is proud to be a pioneer in green marketing.
Having been a key player behind award winning products and campaigns on both sides of the world, Kath has also worked as a marketing tutor for the NZ Marketing Association, spoken at industry conferences and contributed to industry blogs and publications. She has a BA(Hons) from the University of Leeds and the post-graduate Diploma from the Chartered Institute of Marketing. She is also a trained and experienced facilitator, and certified to deliver TetraMap.
In 2013, Kath was a finalist in the Sustainable Business Network Awards for her work challenging Dole banana's greenwash. She was part of the Sustainable Business Network Awards judging team in 2010, 2011 and 2012.
Between 2012, and the end of 2014, Kath co-led the nationwide Fundraising volunteer team for the Green Party, steering the increased professionalisaton of fundraising and helping generate the best ever income results. Kath was a lead volunteer in the development of the triple-gold Effie award winning 'vote for me' election advertising campaign for the Green Party in 2008 and in the political marketing strategy that got 14 Green MPs elected in New Zealand in 2011. She also served on the elected Executive Committee of the Waitakere Ranges Protection Society from 2001 to 2012, helping achieve legislative protection for the Ranges.
Kath delivers the marketing workshop and coaching component of the Auckland Council Green Growth Programme, was a founding member of the 280+ member LinkedIn Group Green Marketing and Advertising NZ in 2010 and in January 2015 launched GoodSense Learning, delivering what is thought to be the world's first online, professional training course in Sustainable Marketing.
Kath runs the GoodSense network from a home office at Piha on the wild, west coast of Auckland.
We'd love to meet you
Let's talk. Contact us today to discuss how a GoodSense marketing consultant can help your business. Call us on 09 973 0960 or email kath@goodsense.co.nz.