Update 2017:
Upgraded GoodSense rating for New World's Little Garden
We're delighted Little Garden succeeded and has been re-run this year.  Its whole foundation and ethos is more ethical than Little Shop. Where Little Shop groomed  brand-aligned packaged foods consumers, Little Garden inspires connection with soil, seed, nature, health, natural food and life. Kei te pai.
Last year we gave the promo 3.5 stars out of 5. We've upgraded it to a 3.75 star rating this year. Here's why:
We love the added commitment to support bees and butterflies, extending the kaupapa to insects and ecosystem education.
We're also pleased to see some improved transparency about the seed kit promo items themselves. However the info is quite deep in a FAQ page (how quaint!) and not complete (see below).
The seeds are 'organic', though not certified.
14 of the 24 seed types are sourced from Aotearoa this time (but this is a double-edged sword).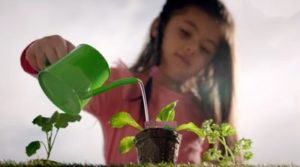 Why only 3.75/5?
Sourcing:
The 14 locally sourced seed types have been sent on a literal world tour, from NZ to Poland and back. The packaging states the kits are assembled in Poland but this isn't mentioned in the FAQs.
The pots were made in Denmark. The seeds come from a Dutch company that buys seeds from around the world. The soil tablets are produced in the Netherlands and contain ingredients from Sri Lanka
The whole lot is then sent to Poland for assembly, then shipped to Aotearoa.
This global supply network used for Little Garden drains authenticity from the whole ' families growing food locally' ethos claimed for the campaign. The kits really show how much food – and food gardening – is a global business when, for food supply, safety, climate and nature, local is best.
Emissions:
The climate footprint of the international sourcing and shipping must be horrendous. This matters.
Inputs:
There's a non-organic fertiliser in the soil tablet.
The website advocates pesticide use (the link it offers is broken) and misses an opportunity to promote organic pest control methods. This undermines the commitment to bees and biodiversity and is problematic for a campaign encouraging children to garden.
The seeds are non-GMO and claimed to be 'organic' but not certified organic which is a missed opportunity.
Where next?
We want the climate footprint, social and environmental impacts factored into all promotion decisions. We'd love to see the 2018 Little Garden as a locally produced, organic certified campaign and challenge New World to start working with suppliers on the necessary licence and supply agreements.
It'd be better for our climate and our economy.  #MakeLittleGardenLocal
Read our 2016 post about the launch of Little Garden here 
Kath Dewar, MD of GoodSense.