The GoodSense team are thrilled by the breadth, depth and caliber of work our clients entrust to us. We are excited to be working with organisations at the forefront of conservation, skincare, plant-based food, open-source technology, community design and resilience building, among others.
It pleases us immensely that the flexible win-win approach we take works so well for the team and for our clients. Here are some of the recent highlights across the team.
Firstly, a huge 'haere mai' to Alice's new baby, Holly Ariadne, who was delivered safely into the world by her wonderful mum in January. Congratulations to the whole family.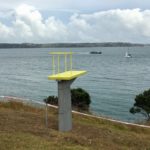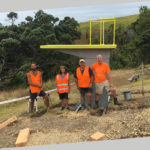 Secondly, we are thrilled Natalie had a sculpture installed as part of the Sculpture in the Gulf 2019 exhibition on Waiheke Island, till 24th March.  The work is part of Natalie's inquiry into late modernist civic architecture inspired by her time in Chandigarh. Her work The Pool, was inspired by a diving platform designed by British architect and urban planner Jane Drew in Sector 23.   For those of you who don't know, before commencing her fine art Phd, Natalie had a marketing role at the Architecture School in Auckland and looks after digital marketing for our interior design client Stack.
By supporting us and our flexible model our clients enable our team to have balance in their lives, fostering art and the next generation, among other things!
Sign up for marketing insights and tips by email every couple of months.