1st August 2012
An investigation by the New Zealand Commerce Commission has led to Dole being issued with a compliance notice that they may be in breach of the Fair Trading Act on three separate counts relating to the company's 'Ethical Choice' marketing scheme. Only the courts can decide if there has actually been a breach of the Fair Trading Act, with convicted companies liable for fines up to $200,000 and individuals up to $60,000.
The advice to Dole included:
Misleading use of standards, including obsolete ones, in 'Ethical
Choice' marketing material.
Use of 'Ethical Choice' in a way consumers might consider implies independent certification by a third party, when Dole does not have independent certification of this kind.
Use of 'Ethical Choice' in a way that might imply Dole is more ethical than competitors, when they have not demonstrated this.
Dole told the Commerce Commission the misleading material would be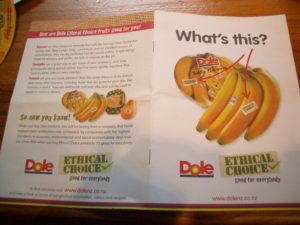 withdrawn.
The advice was a clear signal to Dole to 'shape up or shut up'. But what message does it send to other brands that want to assert progressive or green values?
Credibility and clarity are key. Both, the Commerce Commission and the Advertising Standards Authority in NZ have guidelines designed to protect consumers from being mislead by advertising claims.  Marketers need to follow these.
Before making claims about ethics or environmental impacts, its really important the company behind the brand can actually live up to what's being said. And that they can demonstrate it's not just greenwash. Shoppers are busy and need clear signals they can trust from companies. With the power of Twitter and Facebook at their fingertips, they are swift to punish brands that scam them.
Candid, straightforward reporting of changes made or industry standards exceeded, backed up by detailed, hard evidence are really important. But to give consumers real certainty, reputable third party certification is hard to beat.
Follow our green marketing commentary @GoodSenseMktg