In late 2019 GoodSense was appointed by Wishbone Bikes to support the award-winning New Zealand toy innovator with the launch of their new kid's bike to the local market.  Working closely with the business founders, GoodSense developed the story to pitch to local media and handled the local media relations outreach, co-ordinated with the international launch.  We were thrilled when the coverage we secured included this double-page spread in Woman's Day magazine in the issue on sale the week before Xmas.
The world's first kids' bikes to be made from recycled plastic bottles, each of the new RE2 Wishbone Bikes recycles 200 plastic bottles and diverts 3kg of waste carpet from landfill.
"Our bikes save single-use plastic from waste, are better for our climate than steel, and make it easier to get children cycling earlier," says Wishbone Design Studio founder Jennifer McIver. "Waste less and play more is our motto!"
"We wanted to make sure we could build a bike that is made to be repaired, sturdy for years (so it can be reused and reused again) and then at the end of its useful life, we've made the commitment to our customers that we'll welcome the bikes back for reprocessing," explains Jennifer, who co-founded the toy company with her partner Richard Latham in 2008.
Already well-respected globally for their wooden children's bikes, the recycled plastic bottle bikes are yet another innovative step up for this family-owned business dedicated to making better children's toys.
The Wishbone RE2 bike is designed to introduce children as young as 12 months to the joys of cycling using an award-winning design that requires only a few materials, processes and components to manufacture, and therefore uses much less energy.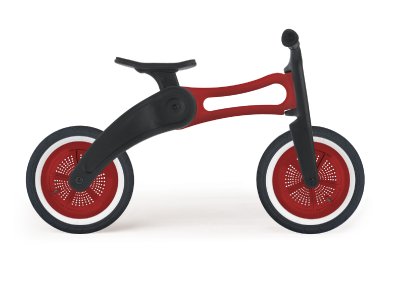 RRP: NZ$319
Buy from www.wishbonedesign.com or your local quality toy, baby or bike shop.
Find out more about how we can help your business with marketing and media relations of sustainability.